Coca Cola-The Name of the Game
June 11,2013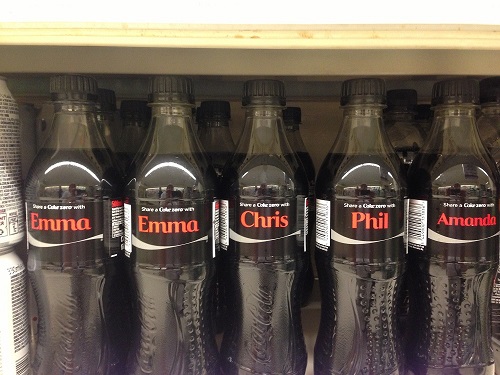 I was pottering in my kitchen the other Sunday morning when I heard my son say to his friend "I'll have Gemma and you can have Chloe" Intrigued I turned around to find them both holding bottles of Coca Cola. They explained to me that Coca Cola are printing names on their bottles this summer. Shortly afterwards I started seeing posts on Facebook of other people sharing photos of bottles of Coke with their names on.
The Share a Coke campaign originated in Australia in 2011 using 150 of the country's most popular names. The Australian campaign was extremely effective leading to a 7% increase in sales and a huge uplift in Facebook engagement. The campaign in the UK will run this summer with 150 of the UK's most popular names, an interesting list that reflects the gender and ethnic mix of the population. This is a brilliant campaign! Not only do Coca Cola encourage people to share their photos on Social Media, a Facebook app allows you to create a virtual can with any name of your choice on. The campaign was launched in London in May by employees of Coca Cola wearing branded T Shirts with their own names willing to share a Coke. Obviously Coca Cola have used Social Media in a clever way to be an integral part of the campaign. They also probably expected a certain amount of viral activity as people post the pictures of the bottles and cans sharing their name as well as comments on the names chosen. Mine isn't included and I would have been amazed if it had been. It's a name that has not only fallen out of fashion but you can probably make a stab at my age too. By the launch event and by taking a vending machine around the country they have also seen the benefit of event marketing.
You don't become one of the World's leading brands by rubbish marketing. This campaign is the latest in a line of brilliant marketing campaigns by Coca Cola that manages to become part of our lives. The company tried to drop its long running "the holidays are coming" campaign only for people to request its return because for them it signalled the start of the Christmas, or if you are American, the holiday season. For people of my generation Coca Cola advertising conjures up pictures of young people of multiple Nationalities singing about buying the World a Coke and the hit record that originated from it.
All I can say is marketing is the name of the game; well done Coca Cola you've done it again!
Written by Gillian Chappell
Source: www.marketingmag.com.au
Lindsay McLoughlin
June 14,2013 06:58 pm
Living in the world of social media, I have really enjoyed this campaign. My daughter's "Coke" name went by on a bus - simply had to take a picture and post on Facebook. It's been great fun.
---
Leave a comment