How much do you value Loyalty?
May 07,2013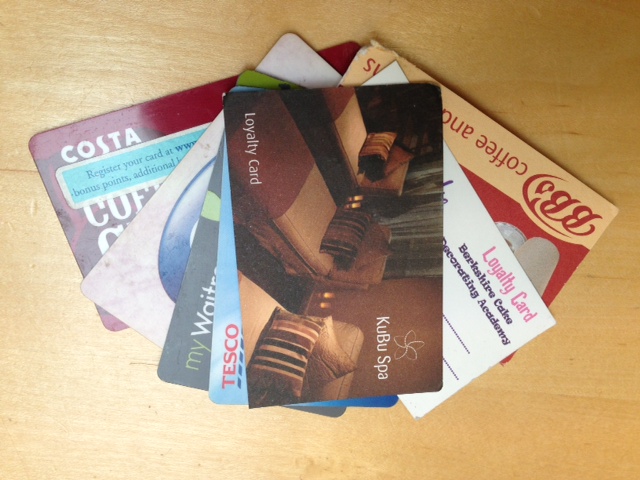 Recently we wrote a blog about the closure of an independent coffee shop in Henley. The owners blamed the tough economic climate as well as the presence of several large coffee shop chains in the town. In the local paper they also claimed that they could not compete against the "marketing machines" of the large chains. These are really valid reasons and it's a great shame when good local businesses are forced to close by the presence of large chains. However there are things that can be done to market a small business especially those in the hospitality or retail sectors.
In my purse I have a number of loyalty cards, some of them from large chains but also some small cardboard ones from small independent shops and cafes. In fact I have one from the cafe that closed. Apart from the look of these loyalty cards, professional looking plastic credit card lookalike as opposed to a small cardboard card, there is one other crucial difference. I can't use the points on these cards or receive discount vouchers until I register on the website of the issuing business. This not only gives the business my email address, my postal address and my age, but a very informative record of my shopping, eating and drinking habits. The information available to big business about their customers is phenomenal and on a scale unthinkable to marketers 20 years ago.
In exchange for this incredibly detailed information about me and my lifestyle, I get money off in the business where I use the cards. As well as money off, these businesses are able to target their marketing. I receive monthly emails from some businesses and additional promotions via the post from others. Importantly nearly all these businesses communicate with me by some method regularly.
That's big businesses with sophisticated computer systems that can collect and process vast quantities of data so how can a small business compete? Here's how
1. Don't just give out the cards. While you hope your customer will visit you 8-10 times for a discount or free cup of coffee what are you getting out of it? Ask the person to complete a form giving at the very least their name and email address.
2. Record the data. Regularly input the data you collect into your database.
3. Use the data. Send out a regular email newsletter and if possible include an offer unique to loyalty card holders.
These are the things you should do at the very least. However there are other ways to either make life easier for yourself or begin to use the information to better understand your customer.
1. Use your website. If your business has a website people can request a card by registering via a contact form and collect the card from your premises.
2. Collect completed cards. If they have a name on them you can record the length of time it took the card to be completed. This way you can identify your most loyal customers.
Issue loyalty cards by all means but make sure they work for you not just your customer. If you have found this information useful why not book an appointment with us to discuss other ways you can use loyalty to increase your business.
Written by Gillian Chappell
Leave a comment